A Personal Finance and Investment Arm of The Business Times
MARKET TODAY:
Market Snapshot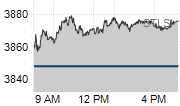 STI
3,298.99
-6.06

| Vol | Val | Rise | Fall | Unch |
| --- | --- | --- | --- | --- |
| 1,012.9M | 533.1M | 130 | 196 | 802 |

HSI
23,976.91
-329.25
KLCI
1,847.69
-1.80
N225
16,193.48
-127.69
KOSPI
2,037.43
-16.39
Stocks
[LONDON] Rallies from Brazil to Japan and the Standard & Poor's 500 Index's first trip above 2,000 have sent the value of global equities...
[NEW YORK] Imagine a world where investors in the stock market have no skill whatsoever. The investors themselves don't understand this...
DESPITE stock indices such as the S&P 500 and the DAX reaching historic highs, stock markets worldwide do not appear to be in a bubble...
AS markets enter the third quarter of 2014, they remain unusually calm. Volatility, as measured by the Chicago Board Options Exchange...
EQUITIES are still preferred to bonds in an environment where yields are low, according to Standard Chartered's semi-annual investment...
INVESTORS should stay in stocks because even though the bull market is ageing, a termination of the uptrend that began in 2009 is not yet...
SOMETHING interesting, unpredicted and possibly worrisome is occurring on financial markets. Stocks and bonds are sending mixed - and...
INVESTORS ought to look beyond a company's share price, and at its fundamentals instead, and that would help them find companies that can...
[PETALING JAYA] Notwithstanding recent moves by the world's largest asset manager BlackRock to reduce its exposure to Malaysian stocks...
YEAR 2014 is for risk assets, says UBS group managing director Mark Haefele. But in order to benefit, Asian investors should diversify and...
IN some parts of the financial markets, there are rumblings that a bubble is building up in global equities. Such sentiment is...
[NEW YORK] Wall Street's biggest banks say the slump in emerging-market assets that left equities trailing advanced-nation shares by the...
HISTORY has shown time and time again that it is dangerous to be caught up in January market euphoria.
2013 was the year of the equity when the key had not been stock picking but simply being "in the market". The New Year may be different as...
[LONDON] Federal Reserve chairman Ben Bernanke, who has steered the US economy through the worst financial crisis and recession in many...
DEVELOPED markets, particularly US stocks, are set to outperform in 2014 while investors are advised against buying commodities and bonds...
[HONG KONG] For the Chinese banks seeking billions of dollars in upcoming stock offerings, a concern is growing that the money will only...
THE total market capitalisation of Singapore-listed companies suffered its steepest drop in over a year as tension in Syria and...
THE search for income from high-yielding fixed income products and high-dividend stocks has been a very popular investment theme over the...
[SINGAPORE] Singapore Exchange Ltd, South-east Asia's biggest bourse, is relying on derivatives for growth amid a dearth of merger and...