A Personal Finance and Investment Arm of The Business Times
MARKET TODAY:
MARKET SNAPSHOT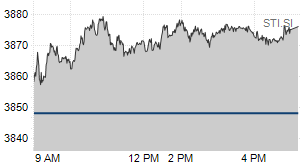 | | | |
| --- | --- | --- |
| Straits Times Index | 3,274.25 | 39.94 |

Hang Seng Index
23,998.06
296.02
KLCI
1,855.15
12.37
Nikkei 225
16,413.76
755.56
South Korea KOSPI
1,964.43
5.50
TOP ACTIVE
TOP GAINER
TOP LOSER
Updated: 31 Oct 2014 17:06 (Quotes are 10 mins delayed)
VIDEO
a-iTrust
28 Oct 2014
2Q FY2014/15 Results
Market News
Stocks
[SYDNEY] More companies listed on Australia's stock exchange faced "serious financial uncertainty" last year than during the global...
Commodities
Not even the specter of a spillover of Islamic extremism from Somalia can dampen the atmosphere in Kenya, where commercial oil production...
ETF
[LONDON] The blossoming love affair with index-based investing and exchange-traded funds is sweeping aside more traditional investment...
Bonds
THE US Federal Reserve's raising of interest rates in 2015 is likely to shake up capital and property markets, but Knight Frank analysts...
REITS
SINGAPORE-listed office real estate investment trusts (Reits) have generated an average year-to-date return of 9.6 per cent and a median...
INITIAL PUBLIC OFFERINGS
Upcoming Listings
MS Holdings Limited
Subscription Price: 0.250
Closing Date: 05 Nov 2014 00:00 AM
Listing Date: 07 Nov 2014 09:00 AM
Zico Holdings Inc.
Subscription Price: 0.300
Closing Date: 07 Nov 2014 12:00 PM
Listing Date: 11 Nov 2014 09:00 AM
Recent IPO Listings
Related Businesses
Brokers' Recommendations
We provide a compilation of the latest brokers' recommendation. Check what the research houses are recommending and the best stock to buy here.
View Recommendations