A Personal Finance and Investment Arm of The Business Times
MARKET TODAY:
MARKET SNAPSHOT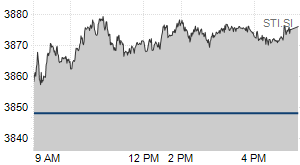 | | | |
| --- | --- | --- |
| Straits Times Index | 2,756.53 | 26.68 |

Hang Seng Index
20,172.46
-54.84
KLCI
1,634.04
4.52
Nikkei 225
15,323.14
13.93
South Korea KOSPI
1,936.22
9.37
Dow Jones Index
17,140.24
-260.51
DJI data from Thomson Reuters
TOP ACTIVE
TOP GAINER
TOP LOSER
Updated: 28 Jun 2016 18:05 (Quotes are 10 mins delayed)
VIDEO
Willas-Array
01 Jun 2016
FY2016 Results Briefing
Fund Manager's Take
15 Apr 2015
Market News
Stocks
Commodities
ETF
The Bank of Japan must drastically lower its presence in the nation's stock market if it wants to preserve the ability to one day unwind...
Bonds
SINGAPORE Savings Bonds have drawn 32,000 investors and S$810 million of their money after the first six offerings of the product, the...
REITS
THE recently enforced lower debt limit for real estate investment trusts (Reits) is making it harder for Reits to do yield-accretive...
INITIAL PUBLIC OFFERINGS
Recent IPO Listings
Related Businesses
We provide a compilation of the latest brokers' recommendation. Check what the research houses are recommending and the best stock to buy here.
View Recommendations