A Personal Finance and Investment Arm of The Business Times
MARKET TODAY:
MARKET SNAPSHOT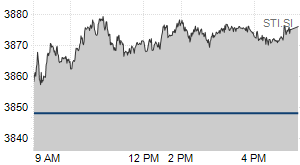 | | | |
| --- | --- | --- |
| Straits Times Index | 2,953.37 | -5.49 |

Hang Seng Index
22,693.84
-168.00
KLCI
1,639.06
-4.69
Nikkei 225
18,996.37
230.90
South Korea KOSPI
2,024.69
-6.38
Dow Jones Index
19,614.81
65.19
DJI data from Thomson Reuters
TOP ACTIVE
TOP GAINER
TOP LOSER
Updated: 09 Dec 2016 15:40 (Quotes are 10 mins delayed)
VIDEO
Thai Beverage
29 Nov 2016
9M'16 Financial Results
Fund Manager's Take
15 Apr 2015
Market News
Stocks
The report - titled Taking stock: Going public in volatile times, by global law firm Reed Smith in partnership with corporate financial...
Commodities
ETF
THE local bourse operator is aiming to have an exchange-traded fund (ETF) for Singapore real estate investment trusts (Reits) (S-Reits...
Bonds
REITS
ASCENDAS Reit said on Friday it has acquired a business park in Sydney for A$143.4 million (S$147.4 million). The property, located at...
INITIAL PUBLIC OFFERINGS
Recent IPO Listings
Related Businesses
We provide a compilation of the latest brokers' recommendation. Check what the research houses are recommending and the best stock to buy here.
View Recommendations