A Personal Finance and Investment Arm of The Business Times
MARKET TODAY:
MARKET SNAPSHOT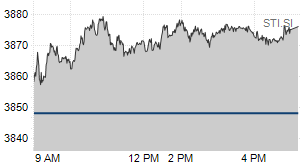 | | | |
| --- | --- | --- |
| Straits Times Index | 3,358.92 | 8.75 |

Hang Seng Index
24,471.79
43.16
KLCI
1,877.34
-
Nikkei 225
15,591.07
61.67
South Korea KOSPI
2,059.40
10.59
TOP ACTIVE
TOP GAINER
TOP LOSER
Updated: 29 Jul 2014 10:34 (Quotes are 10 mins delayed)
VIDEO
Cache
21 Jul 2014
2Q FY2014 Financial Results Presentation
Market News
Stocks
[PETALING JAYA] Notwithstanding recent moves by the world's largest asset manager BlackRock to reduce its exposure to Malaysian stocks...
Commodities
Much larger than Eagle Ford and once thought to have reached peak production, new technology has brought us full circle back to the...
ETF
[NEW YORK] More client-hungry hedge fund managers are looking to put their investment strategies to work in exchange-traded funds, a move...
Bonds
Investors in the bonds of European financial institutions will increasingly be required to take losses during restructurings. As a result...
REITS
[NEW YORK] Hedge funds returned an average of 7.4 per cent last year, trailing the Standard & Poor's 500 Index for the fifth straight year...
INITIAL PUBLIC OFFERINGS
Upcoming Listings
Terratech Group Limited
Subscription Price: 0.230
Closing Date: 25 Jul 2014 12:00 PM
Listing Date: 30 Jul 2014 09:00 AM
Accordia Golf Trust
Subscription Price: 0.970
Closing Date: 24 Jul 2014 12:00 PM
Listing Date: 01 Aug 2014 14:00 PM
Recent IPO Listings
Related Businesses
Brokers' Recommendations
We provide a compilation of the latest brokers' recommendation. Check what the research houses are recommending and the best stock to buy here.
View Recommendations